30 & Nerdy : A Very Blasich Birthday
Alex and I are only a week apart in age, exactly 7 days. I like to joke that we are split souls that made their way back together. Alex is typically the hopeless romantic in this relationship, but see! I can be sappy and romantic too! Ok. Enough of that.
I now work in event production and planning, and wanted to do something cool for this milestone birthday. Alex isn't a big-party-make-him-the-center-of-attention kind of guy, so I took that into account when planning. I wanted something that was quintessentially US, who we were as individuals and as a couple. We came up with the idea for a "30 & Nerdy" themed party!
We are self proclaimed Nerds (note the capital N!). Saturday morning cartoons are still a thing in our house, we collect board and card games, we've seen every episode of Stargate SG-1 at least four times, Alex has read all the Expanse books and participates in the sub reddit (a lot). Wait. Why am I defending our nerd-dom to you? Just trust that we are our own special brand of nerd, just like you. So lets break down the party!
The Theme:
30 & Nerdy- pretty straight forward really! We are turning 30 and we are nerdy! So all the planning worked around that idea. How we would name things, the decor, etc. It was a lot of Star Wars and Harry Potter and board games. And Mario Kart and Smash Bros! All the things that we love! An updated, grown up (because booze) nostalgia.
The Food:
Remember how I said I wanted to show off our own personalities as separate people and as a couple? We also were having people play games, so we wanted snack foods that could be eating quickly and with hands. Nothing needing a fork or knife! That really informed the food choices…
I discovered Grate Boards on Instagram, because it's 2019…and loved the creations. Alex and I make what we like to call "smorgas-boards" for dinner quite often (smorgasbord…get it?!). A platter piled high with veggies and hummus, meats, cheeses, and usually a few leftovers from the fridge. Therefore, since we were turning 30 and are considered "adults" now, a proper charcuterie board seemed like it would be a great fit for the party!
When I reached out to Dimitria, the magic behind Grate Boards, with my idea of a board that had two distinct sides, but that came together in the middle, she was all for it. I gave a little direction along the lines of:
He loves olives- I hate them

I love spicy food

He tends to like salty things and I like sweet things
And this is the stunning creation she put together for us! Get ready to drool. She even included gluten free crackers!
Her side: spicy! 🌶
• Jalapeño hummus ⠀
• Sweet and spicy jelly ⠀
• Mama Lil's peppers ⠀
• Serrano almonds from @recipe_33 ⠀
• Black pepper toscano ⠀
• Pepper salami ⠀
• In Your Face, pepper jack cheese from @frc_cheese
⠀
His side: olives⠀
• Castelvetrano olives ⠀
• Olive hummus ⠀
• Olive tapenade ⠀
• Mixed olives ⠀
Ok, so now that we've covered the savory, time to dive into the best part of any birthday party…the sweets!
I'm not a cake person. Like, cake is great and all, but the running joke with me is that my favorite kind of cake is pie. So I wanted some sort of pie for my desserts….I went straight to PIE in Fremont.
Their pies are mini, not a full pie, perfect for eating by hand. And they make an EPIC gluten free crust that had all my gluten full friends seriously doubting that it was. Strawberry Rhubarb and Peanut Butter Creme for me, my 2 favorite things!
Alex on the other hand, does love cake, but again, we didn't want to need to slice the cakes and serve it and people would need forks…so we decided on cookies from Low Rider Baking Co. These cookies are SO GOOD and Alex has been obsessed since last summer when they had the best blondie bars at their location in the Georgetown Trailer Park Mall. They don't make custom flavors or gluten free (trust me, I asked! And it totally makes sense, baking is a science! I rather something perfect than something custom and crappy). So Alex decided on Birthday Cake, Salted Toffee Pecan and Cookies n' Creme!
Check out my IG story highlights for a quick video rundown of all the goodness! Because I'm terrible and didn't take any 'good' pictures. I was enjoying the party!
The Drinks:
Besides the typical beer and wine, we are also big fans of cocktails! Alex is a cocktail master in our house. My creativity is in the kitchen, his is at the wet bar. So this was his area to help plan!
After consulting the theme…we landed on a DIY bar. Let us explain…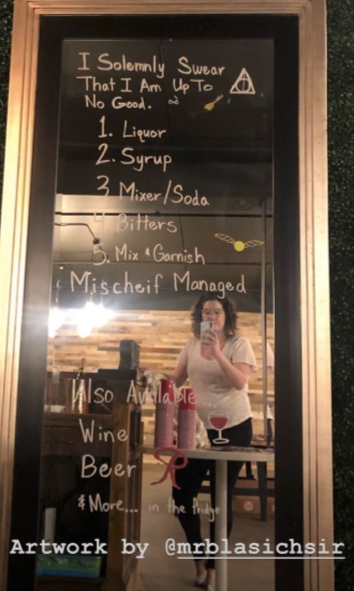 I solemnly swear that I am up to no good…
Pick your booze
Pick your simple syrup / flavoring
Add your mixer
A dash of bitters of your choice
Mix it up, add a garnish!
Mischief managed. Cheers!
We had a selection of booze: whiskey, vodka, gin etc. And I made a bunch of simple syrups; brown sugar, mint, lemon-lime, jalapeño, and vanilla. We also brought our entire collection of bitters (about 8 types).
To add to the nerdiness of it all, I renamed all the syrups: Brown Coat Sugar (Firefly reference), 'Mint' Condition (like a mint condition toy or comic), Liz Lemon-Lime (30 Rock & Tina Fey forever!), "Hal"-apeno 9000 (2001-A Space Odyssey), and Vader's Vanilla (Star Wars).
In case people needed some inspiration, Alex also came up with some cocktail combination ideas for people to try:
Gringot Goblin (Gimlet)-
Vodka or Gin

Liz Lemon-Lime syrup

Lime Juice
Old Ben Kenobi (Old Fashioned)-
Bourbon

Vader's Vanilla syrup

Black Walnut Bitters

Served over ice
Turn To The Dark Side (Mint Julep)-
Bourbon

Brown Coat Sugar syrup

Mint Condition syrup

Serve over ice with lime wedge and/or splash of seltzer
To make sure that we could keep track of our drinks, we got some fun Marvel and Star Wars stickers for people to decorate their red cups.
The Decor:
We're 30, and kinda lazy when it comes to decorating. So Alex and I kept it simple. The space where we had the party- Element 79 Seattle- has these incredible mirrors! So, we brought in our chalk markers and used those to write on the mirrors for the drink menu and general things. They wipe clean with just a damp sponge or paper towel!
The Entertainment:
Oh, board games galore! Plus, we brought in our Wii U to hook up to the projector in the space and played Mario Kart and Super Smash Bros! My Mii fighter is a Cyber Cat Sword Fighter and I am the reigning champ of the party. Just FYI.
And pics or it didn't happen right?! Who doesn't love a photo booth?! The gentlemen at City Sound Wave made fabulous happen with the photo booth that was a huge hit. The photo booth comes with lots of props, but we also had some Harry Potter cloaks and hats too :) Here is just a taste of all the fun times!
Happy Birthday to us! We made it to 30! Here is to another 30 years!